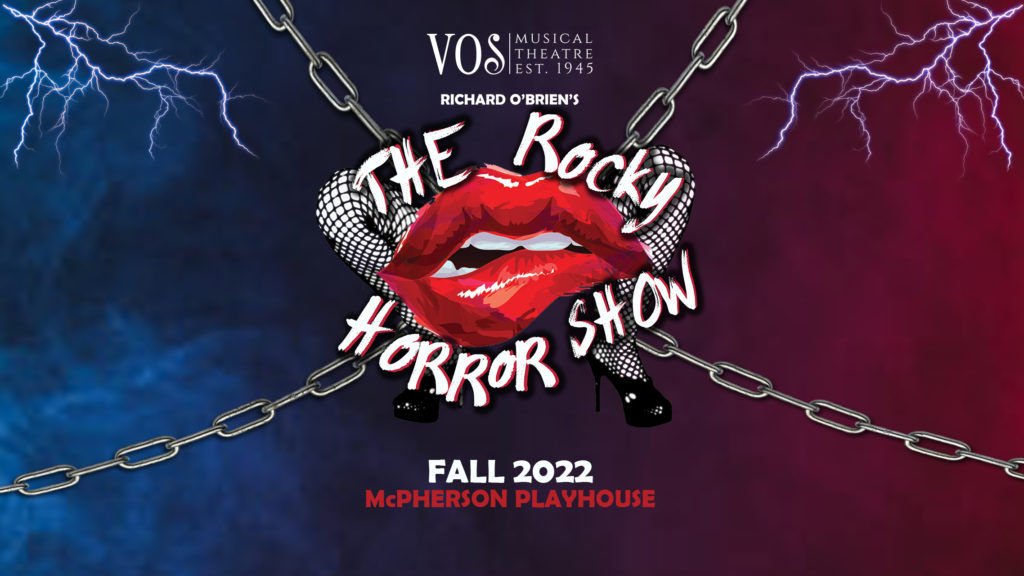 ---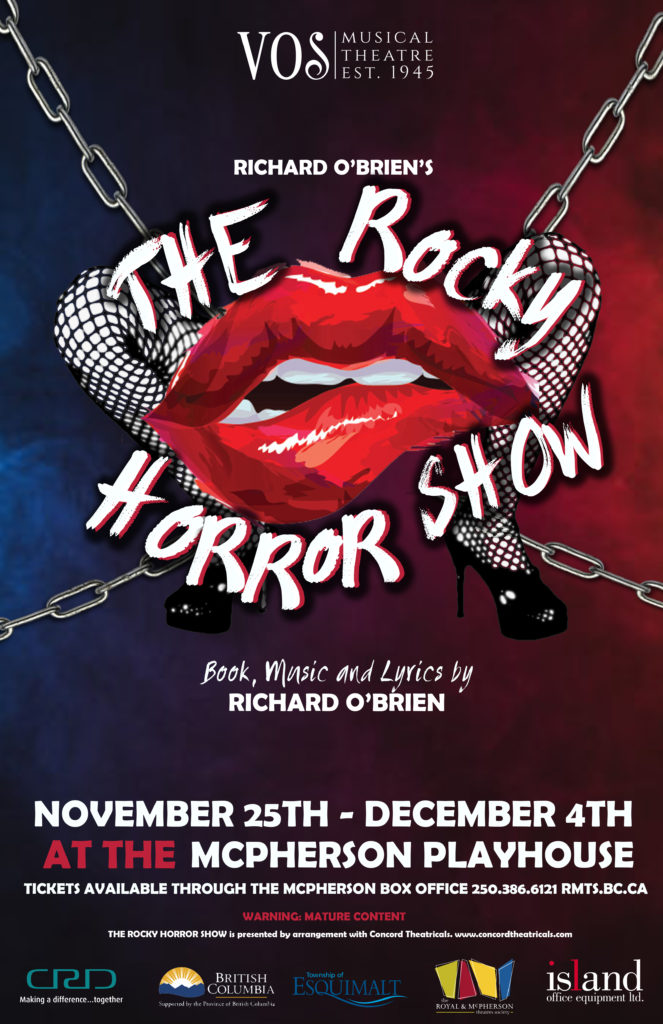 "I see you shiver with antici…………pation"
One fateful night, Brad Majors and their fiancée, Janet Weiss — a wholesome, well-behaved, utterly normal young couple in love — innocently set out to visit an old professor. Unfortunately for them, this night out is destined to be one they will never forget. A thunderstorm and a flat-tire force them to seek help at the castle of Dr. Frank 'N' Furter, an alien, moonstruck scientist with a manic genius and insatiable libido. Brad, Janet, and Dr. Frank' N' Furter's cohorts are swept up into the scientist's latest experiment. The night's misadventures will cause Brad and Janet to question everything they've known about themselves, each other, love, and lust. A loving homage to the classic B sci-fi film and horror genres with an irresistible rock 'n' roll score, The Rocky Horror Show is a hilarious, wild ride that no audience will soon forget
The VOS production of Richard O'Brien's The Rocky Horror Show runs from November 25th – December 4th, 2022 at the McPherson Playhouse.
WANT TO BE ON THE PRODUCTION TEAM?
DEADLINE AUGUST 8th, 2022!
---
AUDITION DEADLINE AUGUST 15TH, 2022
Auditions for VOS's The Rocky Horror Show are now OPEN!! We encourage performers of all ethnicities, gender identities, ages, and abilities, to submit! To best demonstrate our commitment to inclusion in our community, VOS encourages ALL actors to audition for ANY role which they are passionate about.
Audition Information:
For video submissions please include the following:
Introduction (First Name/Last Name, pronouns, and role(s) interested).
2 minutes of singing that should feature or be focused on role(s) interested.
In email, please include a recent headshot and acting resume (if available).
Please confirm your availability for Tuesday & Thursday evening and Sunday afternoon rehearsals.
All scheduling conflicts including out-of-province travel must be disclosed at the time of auditions. Availability will be strongly considered for casting purposes.
**If you need assistance recording a video for your audition or don't have the equipment – Please email Dan at gm@victoriaonstage.ca **
APPLICATION SUBMISSONS BELOW
Character list and breakdown:
BRAD MAJORS – (Range: Baritone/Tenor, A2# – G4) Quirky, but very much in love with their fiancé, Janet. Overly optimistic at times
JANET WEISS – (Range: Mezzo Soprano, Belt, A3-D5#) A good heart who is madly in love with fiancé Brad, easily frightened, emotionally wavering and caves into pressure without much push.
DR. FRANK N' FURTER – (Range: Baritone, D3-G4) A moonstruck scientist from the planet Transsexual, located in the galaxy Transylvania. Master of a castle which serves as their laboratory. Renowned for their decadence and self-indulgence, which in tern leads to their ultimate downfall
RIFF RAFF – (Range: Rock Tenor, Belt, D3-B4) Resembling a zombie. Often makes harmless conversation seem awkward and foreboding. Dr. Frank-n-Furter's main servant.
MAGENTA – (Range: Mezzo Soprano, Belt, A3#-D5#) Sibling of Riff Raff serves as a maid to Dr. Frank-n-Furter.
COLUMBIA – (Range: Mezzo Soprano, Belt, E4-E5) An especially lusty Transylvanian, Columbia falls in love with Dr. Frank-n-Furter followed by Eddie. They are systematically rejected by Dr. Frank-n-Furter
ROCKY HORROR – (Range: Tenor, A3-G4) A dreamy and statuesque reflection of Frankenstein, Rocky is simply made to serve as a plaything for Dr. Frank-n-Furter.
EDDIE – (Range: Baritone, E3–F4#) A trouble-finding rock-n-roll star comes back to life just to die after their song. Previously connected to Dr. Frank-n-Furter and Columbia.
DR. SCOTT – (Range: Baritone, E3–F4#) A mentor of Brad Majors and related to Eddie, enters the castle with the knowledge of science on their side.
NARRATOR – (Range: Non-singing role) Follows our two heroes through the story by narrating directly to the audience.
THE USHERETTE – (Range: Mezzo Soprano, Belt, A3#-D5#) One of Dr. Frank-n-Furter's servants
PHANTOMS – Singing & dancing Transylvanians
---

---