Education & Training
the foundations of performance…
Classes & Camps at VOS emphasize building new techniques every performer needs in their toolbox. Whether it's musical theatre acting, singing, or dancing, they are a great way to help students build long term skills over time. Our instructors come from a wide variety of backgrounds and industries, providing a expansive range of experience.
VOS 2023/2024 TEEN CLASSES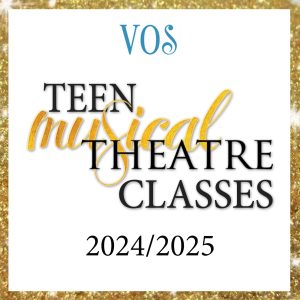 VOS Teen Musical Theatre Classes focus on preparation, collaboration, and exploration. By combining acting, voice, movement training, and performance skills, students will develop the necessary skills needed in musical theatre and are empowered to grow and advance their art in a fun, creative, and supportive environment. Students will get a chance to work in a real rehearsal hall with props and costumes and perform numbers and scenes from various musicals. Beyond the practical application in theatre, students will learn to work in teams, solve problems, build self-confidence, gain respect for the talents and opinions of others, and explore their own creativity while also making new friends. Classes conclude with a showcase performance for family and friends.
For further information, please email youthdev@victoriaonstage.ca.
Fall 2023 Semester
Ages: 12-17
Tuition: $325
Friday 4:30-6:30pm
September 8 – December 8, 2023
CLASS FULL – NOW IN SESSION
Spring 2024 Semester
Ages: 12-17
Tuition: $400
Friday 4:30-6:30pm
January 19 – June 7, 2024
(No class March 22 & 29)
REGISTRATION
All students must be a member of VOS to attend classes and camps.
(Please contact gm@victoriaonstage.ca if you are unsure of your child's membership status.)
Click Here to become a member. ($10)