---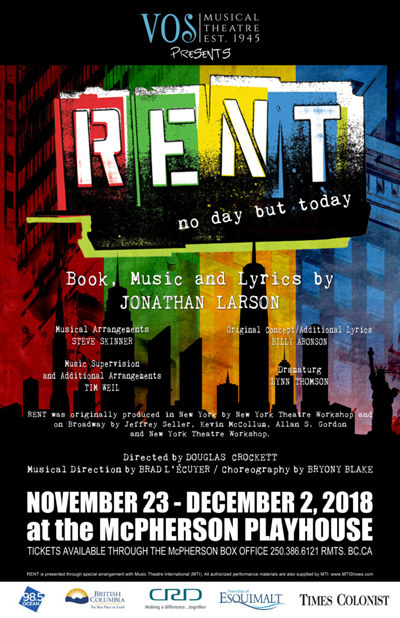 "…No Day But Today…"
Based loosely on Puccini's "La Boheme," Jonathan Larson's RENT follows a year in the life of a group of impoverished young artists and musicians struggling to survive and create in New York's Lower East Side.
How these young bohemians negotiate their dreams, loves and conflicts provides the narrative thread to this groundbreaking musical. With songs that rock and a story that resonates, RENT is about falling in love, finding your voice and living for today.
Winner of the Tony Award for Best Musical and the Pulitzer Prize for Drama, RENT has become a pop cultural phenomenon. This is theatre at its best – exuberant, passionate and joyous.
"…Measure Your Life In Love…"
Directed by Douglas Crockett
Music Direction by Brad L'Écuyer
Choreographed by Bryony Blake
---
CAST
---
| | |
| --- | --- |
| ROGER DAVIS | Sean Baker |
| MARK COHEN | Liam McDonald |
| TOM COLLINGS | Bret Newton |
| BENJAMIN COFFIN III | Liam Reitsma |
| JOANNE JEFFERSON | Rae Paxton |
| ANGEL DUMOTT SCHUNARD | Dan Comeau |
| MIMI MARQUE | Alyssa Bryce |
| MAUREEN JOHNSON | Sarah Newton |
| ENSEMBLE | Ron Cassie, Sadie Evans, Tenyjah McKenna, Alexander Moorman, Sahsa Moriarty-Schieven, Darian Ngai, Jesse Polito, Mark Riishede, Angelina Robertson, Somaya Said, Angela Yu |
---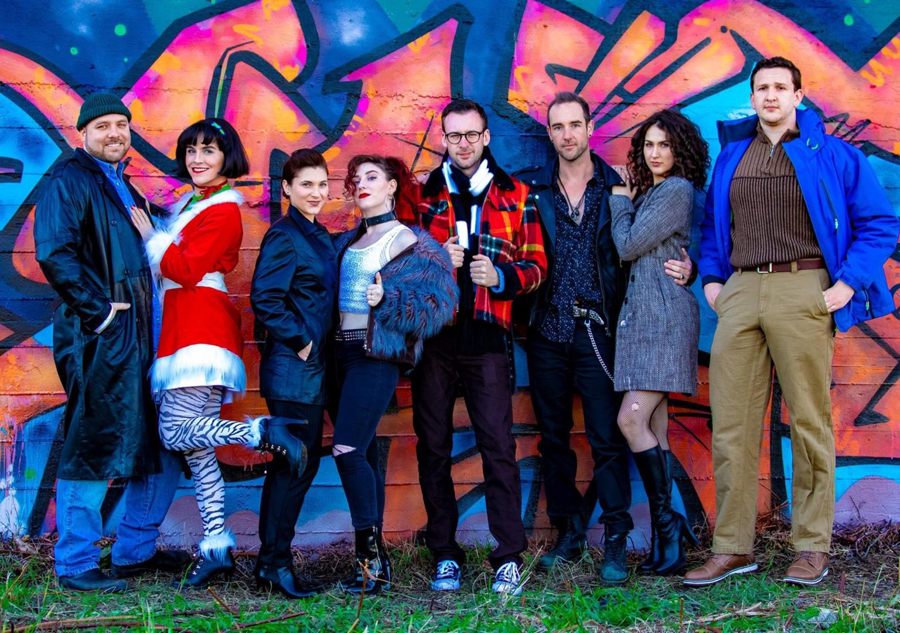 ---
REVIEW
---
"It's a great show, indeed, one of the VOS's best in recent years."
"This fine set was designed by the talented Barbara Clerihue, with moody lighting by Adam Wilkinson. Led by keyboardist Brad L'Ecuyer, the production boasts a crack sextet. The band, featuring some of Victoria's most talented musicians, is strong but never overshadows the singers."
"There are many good vocalists here. Among the standouts is the excellent Sean Baker as Roger, who during a recent matinee not only sang with passion but displayed an ability to bull's-eye high notes. Also, of note was Sarah Newton as the sassy Maureen, who nailed the spectacular and difficult showcase tune Over the Moon. Young Dan Comeau impressed as Angel, a drag queen bristling with life and fun despite having AIDS. Displaying a pleasingly husky timbre, Comeau performed particularly well for the number Today 4 You B, drumming both a plastic tub and a table, which he vaulted onto with athletic aplomb. There are no weak links in this cast, which includes Rae Paxton, Bret Newton and Liam Reitsma."
"Rent is a sure bet."
---
PROGRAM
---