---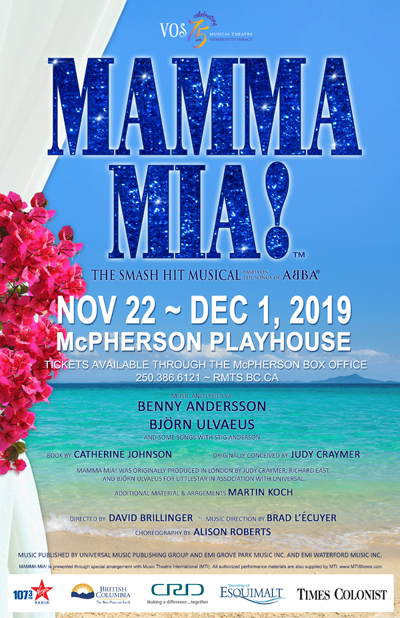 MAMMA MIA! is packed with unbridled energy and enthusiasm and we are thrilled to finally share our version of this iconic musical with audiences in Victoria. Its light-hearted spirit and unforgettable soundtrack make the show a joy to watch – you can't help but sing along and get caught up in the fun.
Based on the hit songs of 1970's superstars ABBA, MAMMA MIA! tells the hilarious story of a young woman's search for her birth father. This sunny and funny tale unfolds on a Greek island paradise. On the eve of her wedding, a daughter's quest to discover the identity of her father brings three men from her mother's past back to the island they last visited 20 years ago.
A mother. A daughter. Three possible dads. And a trip down the aisle you'll never forget!
Directed by David Brillinger
Music Direction by Brad L'Écuyer
Choreographed Alison Roberts
---
CAST
---
| | |
| --- | --- |
| DONNA | Jolene White |
| SOPHIE | Angelina Robertson |
| TONYA | Kelley O'Connor |
| ROSIE | Stephanie Geehan |
| SKY | Liam Reitsma |
| ALI | Hailey Fowler |
| LISA | Rae Paxton |
| PEPPER | Neil Croswell |
| EDDIE | Brock Keeler |
| HARRY | Michael Romano |
| BILL | Dwayne Gordon |
| SAM | Colin Grewar |
| FATHER ALEXANDRIOS | Caelin Rose |
| ENSEMBLE | Carenza Angharad, David Boonstra, James Coates, Nathan Corpus, Sadie Evans, Rylee Godo, Charlotte Greaves, Lara Hamburg, Patrick Heath, Emily Heayn Moore, Hostion Ho, Andrea Lemus, Airlie Longpre, Katelyn MacKellen, John Manson, Jordan McDonald, Darian Ngai, Ashley Richter, Mark Riishede, Caelin Rose, Mandy Wiltshire |
---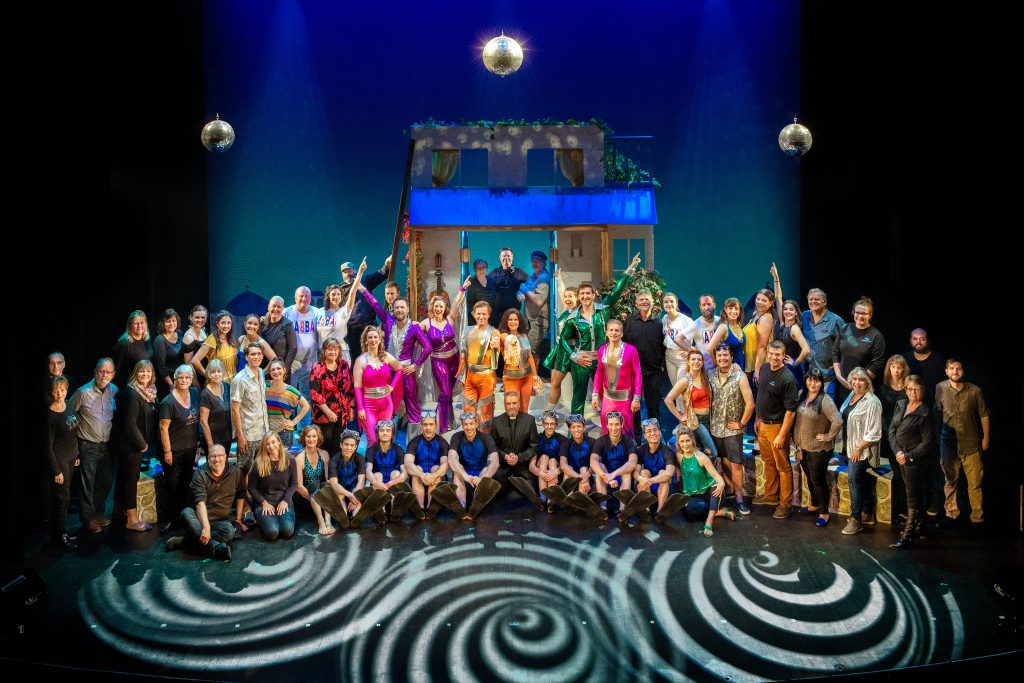 ---
REVIEW
---
"Abba musical Mamma Mia! eclipses all expectations"
"I had never actually seen the musical Mamma Mia! before. I knew it was filled with music from legendary Swedish pop band ABBA. I also knew it has continually been a smash hit on Broadway, which made me somewhat trepidatious—could VOS Musical Theatre bring that big, ballsy, bursting-with-disco-fever musical production to life on our sweet, smallish Victoria stage?
Now, after seeing it, I want to dance and scream, "YES!"
Mamma Mia!, directed by David Brillinger, is delightful. The plot revolves around Sophie, a lovely young woman played by Angelina Robertson, her charming mother Donna, played by Jolene White (who is actually Robertson's mother), and their separate sets of supportive friends. It's all set in the quaint hotel Donna owns on a beach in Greece. Sophie is planning to marry her high-school sweetheart Skye (played by Liam Reitsma). As the wedding day approaches, Sophie realizes what's missing: her father, who she has never met. After reading Donna's old diary, Sophie narrows the search down to three possible men, and impulsively sends them all wedding invitations.
Robertson really lights a fire on stage. She bursts with dewy-eyed earnestness in her search to find her dad, and dances with so much energy and grace that sometimes I thought her feet weren't even touching the ground.
White is equally well cast as Donna, who is kind and maternal yet a bit rough about the edges. Robertson and White work extremely well together, as they have an obvious and authentic chemistry (and for good reason, all things considered). Mamma Mia! choreographer Alison Roberts has worked magic, particularly with two dance numbers featuring young men dressed in snorkelling gear—complete with flippers.
The set, designed by Barabara Clerihue, is rustic and Mediterranean, complete with impressive rolling waves. The costumes, designed by Jeff Mousseau and Jessica Charlesworth, are a mix of sandy beachwear and shiny, disco club clothes—very appropriate for the production.
Finally, hats off to music director Brad L'Écuyer, as after two-and-a-half hours of ABBA's tunes filling my head, I had to look and see if everyone around me was smiling as widely as I was. They were."

Emily Welch – Nexus
---
PROGRAM
---