---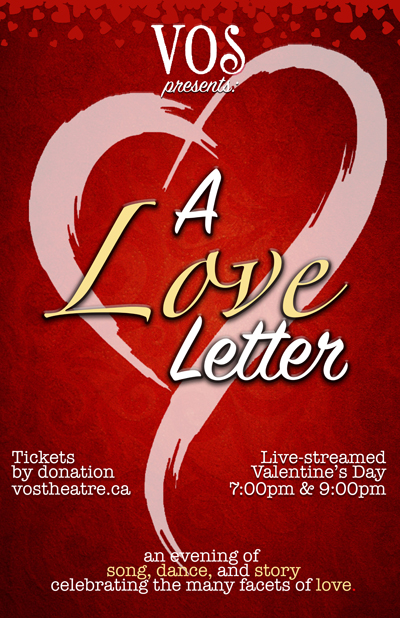 Created for audiences on Valentines Day. VOS Presents: A Love Letter is our 3rd virtual performance. An evening of song, dance, and story, as we celebrate love in all its glorious incarnations. Love of music, love of dance, love of life, love of friends, love of that someone special, love of self, love of family.
With performances from some of your favourite VOS artists, this fundraising event is sure to warm your heart and remind you that love is a many splendored thing!
Viewing of this event is by donation, and all funds raised will be used to help keep the magic of VOS alive during these unprecedented times for the theatre.
Artistic Creation by Alison Roberts
Produced by Suzan Pyke
Production Managed by Dan Comeau
---
CAST
---
| | |
| --- | --- |
| "IT'S TIME TO DANCE" | Mandy Bryant & Rae Paxton, with dancers Alison Roberts, Brock Keeler, Dan Comeau, Darian Ngai, Hailey Fowler, Hostion Ho, Josh Graetz, Katelyn MacKellen, Nathan Corpus, & Tatianna Landry, and special guest Sean Guist |
| "THEY CAN'T TAKE THAT AWAY FROM ME" | Josh Graetz |
| "FALLING SLOWLY" | Sean Baker & Alyssa Bryce |
| "GIMME GIMME" | Mandy Bryant |
| "LIGHT" | Maggie Martin, Dwayne Gordon, Francesca Bitonti, Justin Wilde, Nathan Corpus, & Craig Wilson |
| "WHERE THE LOST THINGS GO" | Genevieve Roszman |
| "AGONY" | Ron Caissie & Nathan Homb |
| "SOMEWHERE" | Angelina Robertson, with dancer Emma Wilde |
| "WHEN HE SEES ME" | Meera Matthews |
| "DEFYING GRAVITY" | Dan Comeau, with Alison Roberts |
| "BEING ALIVE" | Craig Wilson |
| "LADIES WHO LUNCH" | Francesca Bitonti, Jennifer Sanders, Pam Miller, & Colleen Sullivan Mares |
| "IF THE WORLD TURNS UPSIDE DOWN" | Dwayne Gordon |
| "HISTORY OF THE WRONG GUYS" | Molly Lydon |
| "WHERE YOU LEAD, I WILL FOLLOW" | Angelina Robertson & Jolene White |
| "WHAT I DID FOR LOVE" | Dan Comeau & Alison Roberts |
| "YOU WILL BE FOUND" | Dan Comeau, Alison Roberts, Emma Wilde, Dustin Wilde, & Angelina Robertson |
---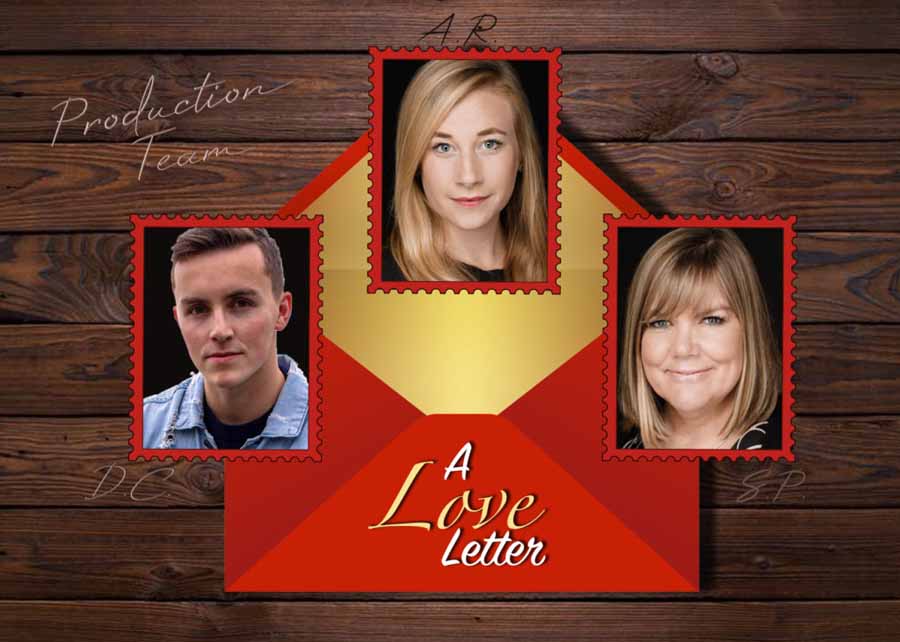 ---
---