2021 SPRING NEWSLETTER
---
President's Message
There is no handbook on "How to Lead a Not-for-Profit Theatre Company Through a Pandemic." We are writing our own script as we go. These have truly been and continue to be unprecedented times.
It felt like the pandemic took the wind out of our sails when we had to make the difficult decision to cancel a show so close to production; the first time in our 75 years and hopefully the last. But what we've learned in the last 75 years, is that we are a strong society and a resilient VOS family.
Along with you, I was deeply saddened to find my life without theatre. It is such a big part of our lives and we were left so empty, so quickly. But this is just an intermission……
After the Board caught its breath, the creative juices began to flow. My focus was to keep our members engaged and connected to VOS and to continue to provide a musical theatre experience to our audience. With this focus in mind, the Board began to create some innovative ways to accomplish this.
It's been a very different season for VOS but we have much to celebrate. I am proud of what we've created and how we forge ahead with respect and compassion for each other and an openness to new ideas and doing business in a new way…for the short term.
Here are some of the highlights from the past 6 months:
Guy Chester, and his team including Jeff Norton, Roger Lamarche, Alykhan Ismail, Rob Payter and Matt Schmidt, turned the hall into a black box theatre
Rob McDonald and Al MacKenzie equipped the hall with the technology we need to produce streamed events/shows
Lal O'Connor and Peta MacKenzie continue costume rentals for members and local film
Tara Britt continues to do an amazing job teaching her fantastic teen musical theatre class with her wonderful music director Yanik Giroux
We produced three virtual events: two cabarets Bringing Back Broadway and A Love Letter and a wonderful Christmas show, Home for the Holidays; special thanks to Alison Roberts for her wonderful fundraising ideas and to Alison, Dan Comeau and Doug Crockett for the countless hours of work they put into these events; huge thanks also to all others involved in the success of our virtual events including: Pedro Siqueira, Rob McDonald, Suzan Pyke, Drinda Ribeiro, Sandi Norton, Jane Milliken, Al MacKenzie, Lally O'Connor, Peta MacKenzie, Cam Culham, David Hardwick, Jennifer Sanders, Megan Stretch, Jessica Charlesworth, Kelley O'Connor, Tim Roberts, Janet Hender, Mary-Lynne Britt, Dustin and Emma Wilde, Jennifer Magnusson, Guy Chester, and to all of the VOS members who shared their talent
Our Future Shows committee continues to research show options in these ever changing times, there are some exciting choices on the table; thanks to Mandy Wiltshire and her committee for their perseverance and patience
Thank you to the volunteers who continue to be at the ready to support VOS while we do business a little differently.
Thank you to all of our members for supporting our virtual events and continuing to renew your memberships.
I couldn't ask for a more dedicated and hard-working Board to get through a pandemic. Thank you for your energy, enthusiasm and ideas!
Stay safe and healthy everyone! I see the light at the end of the tunnel, and it's pointed at center stage.
Fran Bitonti
---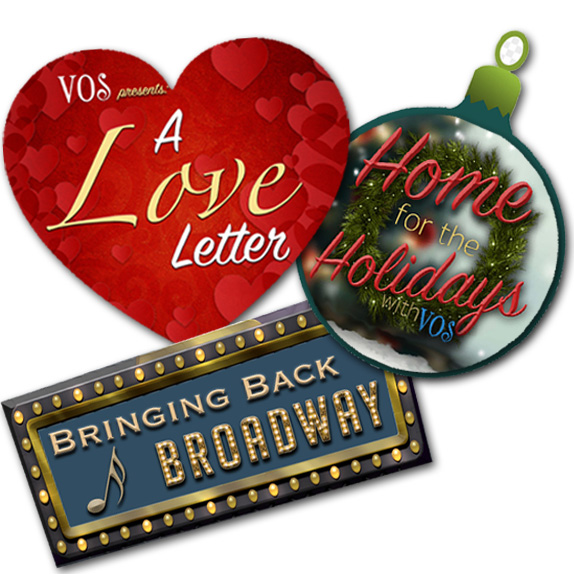 Showcases & Cabarets
These challenging times have required VOS to pivot how we traditionally do theatre. Without our two mega-musicals a year, we had to brainstorm how we could continue to bring our love for the arts to our community.
The result of this shift in programming were the creations of our first-ever virtual performances, including Home for the Holidays with VOS, Bringing Back Broadway, and VOS Presents: A Love Letter. Each one was a great success in its own way, and we could not be prouder! Our main goals for these live-streamed events were to engage our membership, provide entertainment for our ever-supportive audiences, and keep our creative brains working. With each production, we have learned and grown as we navigate this new platform of presenting theatre.
Our December fundraiser, Home for the Holidays with VOS, was the first of its kind and helped us reach a new demographic of viewers while spreading some much-needed festive cheer. Bringing Back Broadway was our first cabaret-style show and provided our members with the chance to sing and perform some of their favourite Broadway hits. And finally, applying many of the lessons we learned from our first two events, our Valentine's fundraiser, VOS Presents: A Love Letter, combined song, story, dance, and a variety of several filming locations while safely engaging a cast of over 30 celebrating the many facets of love.
Moving forward, we are hoping to continue to create these virtual shows while engaging even more of our members, both past, present and future, and working to improve the overall quality and content of each production. We are so grateful for everyone who has helped to put these events together and allowed VOS to remain an active member of the theatre community in these unprecedented times.
Alison Roberts
VOS Board Member-at-Large – Fundraising Chair
Co-Creator – Home for the Holidays with VOS
Artistic Creator – VOS Presents: A Love Letter
---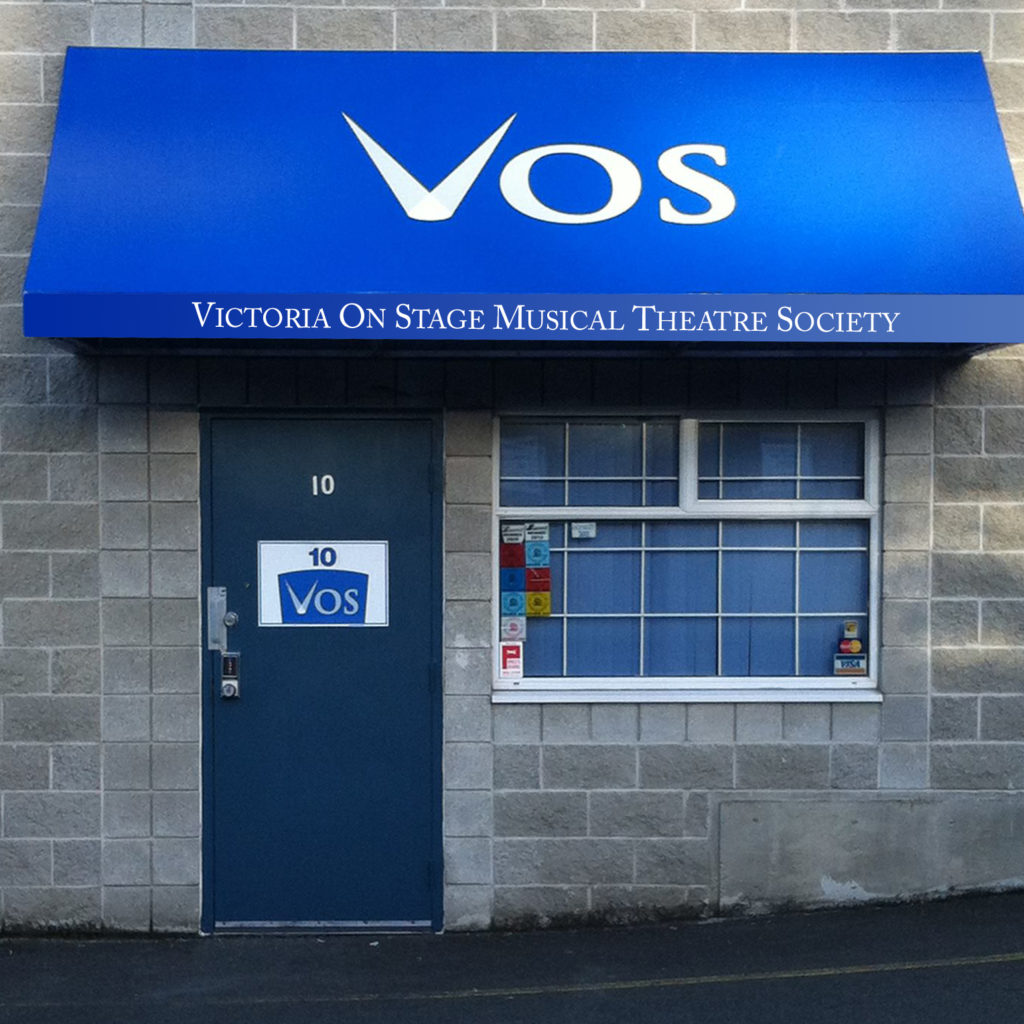 VOS Reno's
Hi friends.
For those of you who don't know me, my name is Rob McDonald and I serve on your Board of Directors as Secretary. I also sit on the Marketing Committee and am Chair of the Tech Committee.
One of the other projects I have been leading, is some of the ongoing renovations to our space at the VOS hall. Pre-Covid times, we worked on converting the green room into a more functional space. We emptied out the room, painted, put in durable flooring and installed custom built benches with storage cubbies around the perimeter of the room. Many volunteers contributed their time and talents to this project and the results are tremendous! A few short months after that, the world changed and theatre shut right down. Your Board of Directors now had the task of figuring out the direction of our beloved society during such an unprecedented time.
The decision was made for VOS to pursue the idea of producing recorded or live streamed performances. This would require a number of changes at the hall so we began planning and prioritizing how to do that. The first task was to figure out how to live stream the summer camp showcase performances. With the tremendous assistance and advice of Shane from Lumera Productions (a local company who provides live streaming services for events like graduations, church services and others) we borrowed and rented the basics of what we needed to make those first live streams a success. At the same time, through some generous donations, we began ordering some of the tech equipment necessary to continue producing these events without having to rent each time. Some of the equipment we have already added are a Pro grade video camera, a streaming/switching device and a new sound board.
Outside of the electronic equipment, we had to take a look at the physical space and determine how to best set up the hall for versatility and functionality. So far, we have painted the "stage" section of the floor black and added black draperies to border the stage. Currently we have a small crew coming in each Saturday morning working on clearing out the hall by culling unneeded items and creating some new storage spaces. We are taking down the show posters and are having them scanned into digital images at UVic. The Honorary Member pictures are being relocated most likely into the hallways. Also, we have plans in the works for some basic theatre lighting, replacement of the fluorescent light fixtures with energy efficient LED panels, painting the walls, and eventually (after raising funds) a proper dance floor that is suitable for our "musical theatre" use, including standing up to our set piece movement.
It has become quite apparent to us that even after physical distancing restrictions are lifted and we are able to return to the theatre, VOS would like to continue pursuing "in house" productions that can be recorded, live streamed and also be taken into the theatre. I would like to express my heartfelt thanks to all of you who have, and continue to help with this process and look forward to the day when we can have more robust "work parties!"
Rob McDonald
VOS Secretary
Marketing Committee Member
---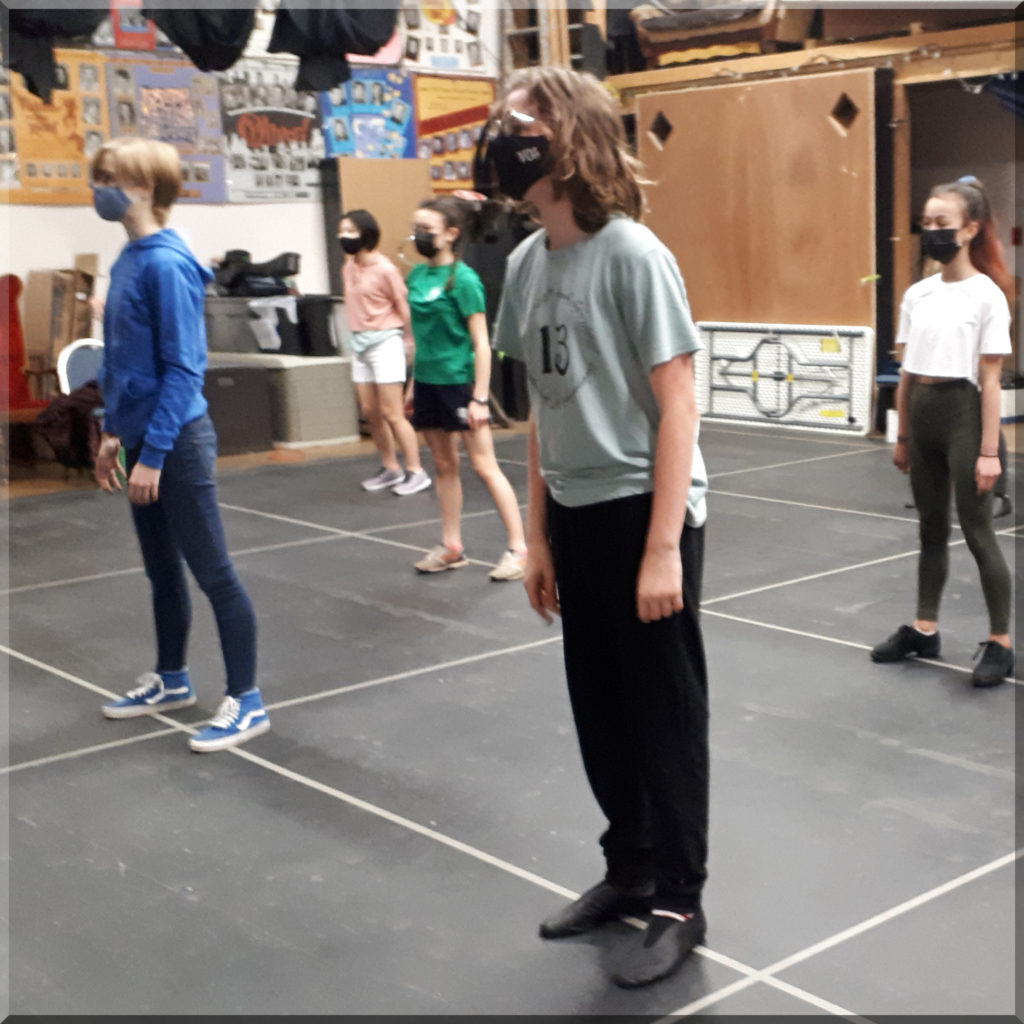 Education & Training
The 2020 spring Teen Musical Theatre class started out as any other year. The students were working on incredibly challenging music and choreography using sets and props and it was looking to be our most ambitious material choices to date. And then the pandemic hit. It was incredibly sad, but the decision was made to cancel the rest of the semester.
With new safety protocols in place, we welcomed 32 students (no more than 12 per camp) ages 7-17 and our 2020 summer camp program had one of its most exciting years ever! It was an incredibly fun, challenging, social distancing, hand sanitizing time and each camp had a live streamed performance on the last day. Everyone felt safe and had a fantastic time. Josh Graetz was hired as our summer student and provided a wealth of knowledge and professionalism to our students.
The Teen Musical Theatre Academy camp is an incredibly intense and challenging program that gave teens the opportunity to experience what it would be like to go on and train to work professionally. Special thanks to this year's instructors: our Music Director Yanik Giroux and workshop instructors, Melissa Funge, Niki Allard Martin, Ursula Szkolak, Maggie Martin, Amanda Bridgette, and Josh Graetz.
Teen Musical Theatre Intensive camp provided students with an intensive look at putting up a show within a short rehearsal period. On top of learning three production numbers, each teen performed a solo song.
Kids Musical Theatre camp is a half-day program where kids get an introduction to all thing's musical theatre. We play theatre games, sing, dance, and act. Special thanks to Mandy Bryant, our Music Director for this camp.
We continued to fine tune our safety protocols and the Fall Teen Musical Theatre class was chugging along full speed until new guidelines had us scrambling. Thankfully, we were able to finish the semester with an enthusiastic group of (masked) students.
With the addition of Josh Graetz to our instructor team, this year we were able to include a successful Adult Broadway Jazz dance class to our Fall Semester line-up. Though provincial guidelines have forced us to push back the start dates, we are hopeful we will be able to offer the Intermediate/Advanced Broadway dance and Beginner dance this spring.
In the current climate of Covid-19 guidelines and restrictions, we are constantly reminded of the resilience and dedication of our youth members. We are now looking forward to our 2021 VOS Musical Theatre camps which will be announced shortly.
Tara Britt
Education & Training Director