LIMITED TIME T-SHIRT PROMOTION ENDS MAY 15, 2021
Over the last year, we have had to adapt and reinvent how we do things here at VOS, while theatres worldwide have gone dark due to the COVID 19 Pandemic. Through virtual shows and events, we have tried to keep the magic of theatre alive while engaging our membership and our audiences. As we navigate these challenging times in our world, heading into our second year without live events, we wanted to find a way to lift our spirits, restore our sense of community, and remind ourselves: It's only an intermission.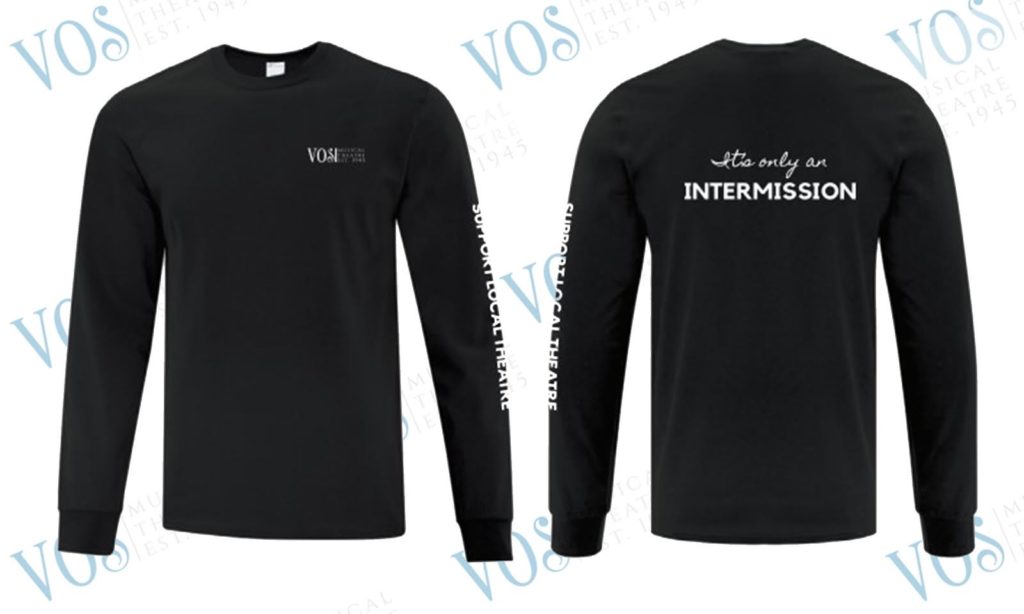 As a result, we have created a unique and poignant shirt for our members, friends, supporters, and the theatre community. Our hope is that we will begin to see these shirts throughout the community and that they become a symbol of optimism that we can and will get back to doing what we know and love, working together, sharing our passions for the arts, and entertaining our audiences.
The long-sleeved black t-shirt with white lettering has the VOS logo on the front left chest, down the left arm is "SUPPORT LOCAL THEATRE," and on the back is our optimistic motto "IT'S ONLY AN INTERMISSION."
We hope you will join us in showcasing the passion we have for our theatre community and our assurance to all that we will be back on stage someday soon, stronger and more energized than ever.